Step 10: Dry and Cure Your Newly Harvested Buds
After you have cut off and trimmed all of your glittery, beautiful fat buds, you will want to hang them upside down in a cool, dark place with plenty of ventilation so that they can dry out.
Dry buds slowly for best results and check often for mold or overdrying. You've worked way too hard to lose your crop now!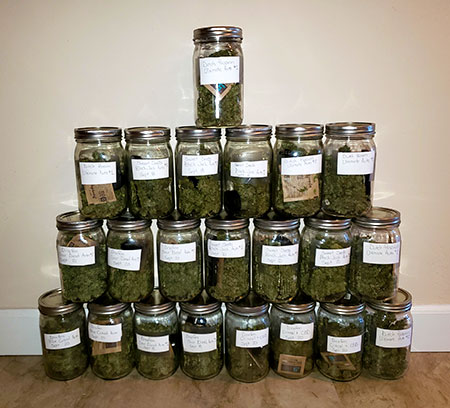 After your cannabis buds have dried (thin stems snap, but the thicker stems are still a bit bendy), it's time to start curing them so they're smooth, taste good, smell good, and have the best effects.
To cure your buds, put them in tightly-closed quart-sized mason jars in a cool dark place. Fill each jar loosely about 3/4 of the way full.
For the first 2 weeks of curing, open the jars once a day for several seconds to get fresh air in your jars and release any moisture.
If your buds feel moist when you check on them, leave the tops of the jars off until the outsides of the buds feel dry to the touch. Too-moist bud is what causes mold!
Special products like "Boveda 62% Humidipaks" will make curing a lot easier, as they will naturally regulate the humidity in your jars.

After your cannabis has been curing for at least 2 weeks, and they haven't felt wet every time you've checked the jars for at least a week, you can start opening the lid once a week instead of once a day.
Some people only cure their bud for 1-2 weeks total while other cure their bud for 30 days or more. Because you need to open the jar regularly, you can always sample some as it's curing to get a feel for whether it's done or not.
I personally think that cannabis tends to be more potent if you cure it for at least a month.
Curing for longer than 6 months doesn't do anything, and cannabis can become less potent over time as THC turns to CBN. Keep your harvest in a cool, dry, airtight space for long-term storage.
---