This is the stage where your plants start making buds. This stage will last until harvest!
During this stage, you will need to…
Change to 12-12 Light Schedule
Identify Gender of Cannabis Plants
Get Rid of any Males
We're getting to the exciting part!
Most strains of cannabis begin this stage once they're getting at least 12 hours of uninterrupted darkness a night. Autoflowering cannabis plants will start the flowering stage without needing a lighting change.
Light
Indoors, you must change to a 12-12 light schedule, with 12 hours of light & 12 hours of uninterrupted darkness each day (usually accomplished by putting your lights on a timer) to get your cannabis to start flowering (making buds).

 

When should I change my light schedule to 12-12?
Outdoors, your weed will naturally start flowering when the days get short enough, usually a few months before winter.
The flowering stage is where your plant goes through "puberty" and basically reveals whether they are a boy or a girl.
Unfortunately, for regular seeds, half your plants will end up female and half will end up male. That's why a lot of growers prefer starting with clones or buying feminized seeds – all the resulting plants will grow into females.
As cannabis growers, we're only looking for females as female plants are the only ones that make buds. Male plants just make pollen sacs (balls) that cannot be used for smoking.
A week or two after you initiate the 12-12 light schedule (or naturally in the wild), your plants will reveal their gender…
Female plants start growing wispy white hairs at the tops of branch joints. These are the pistils of her flowers/calyxes. You'll get bunches of these calyxes growing on top of each other to make buds, and each calyx will have a few white hairs coming out of it. This is great news! It means this plant will eventually grow beautiful weed with buds/flowers/ganja that you can smoke.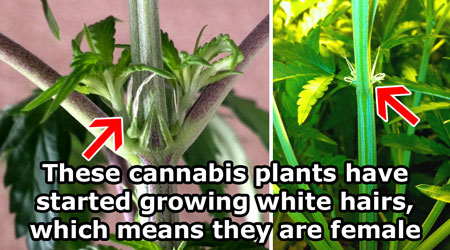 Male plants start growing balls/pollen sacs with no white hairs/pistils. Unfortunately, most male plants do not develop psychoactive properties like girls do in their flowers. Plus, male plants can pollinate your female plants and cause them to make less bud and more seeds. Therefore, most serious cannabis growers choose to remove and dispose of male plants as soon as they show their sex.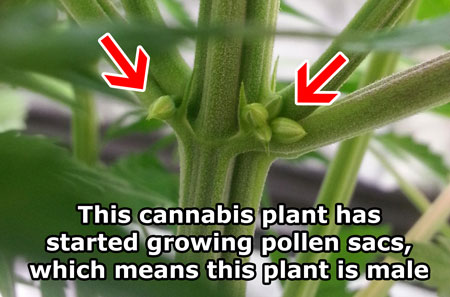 Note: The sturdy green growths are not pistils, they are always there on both boy and girl plants. When looking for gender, you're specifically looking for white wispy hairs (pistils).
Learn more: Is my plant a boy or a girl?
Ok, so you've gotten rid of your male plants. Your female plants will be growing more and more white hairs and before you know it, actual buds/flowers/trees are forming. Woohoo!
Now that you're fully in the flowering stage, it's best to keep temps slightly cooler, around 65-80°F (18-26°C) to produce buds with the best color, trichome production and smell. Learn more about what you need to do in the flowering stage to produce top-shelf buds.
It's important to pay close attention to your cannabis plants during the flowering stage. This is because in this stage your plant is much more likely to suffer from nutrient problems as they're focusing all their energy on growing buds.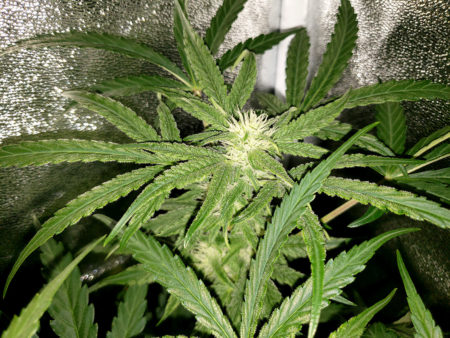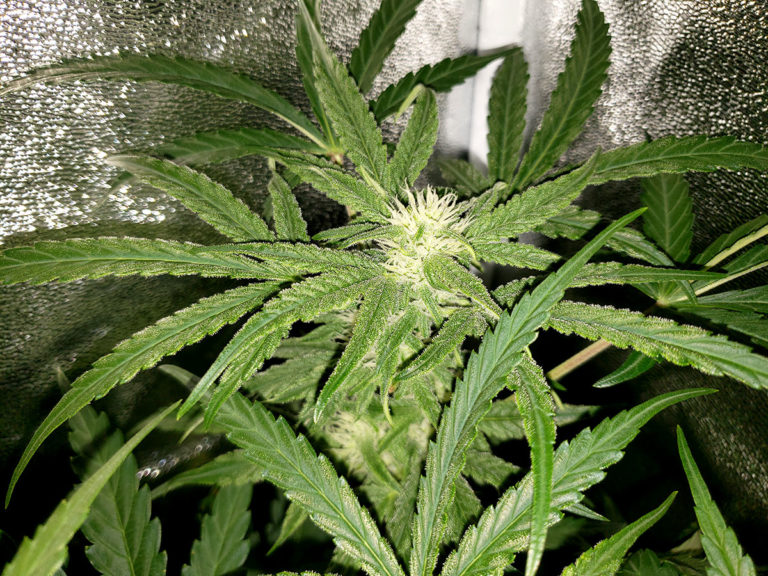 ---